Authorizations
We have authorizations for the management and treatment of waste, both hazardous and non-hazardous, in the Autonomous Communities of Galicia and Madrid .
Quality, Environment and Information Security Policy.
Revertia is firmly and decisively committed to sustainable development, offering the best quality in the services offered and assuming a commitment to respect and protect the environment. All this guaranteeing the security of the information of the received supports. For this reason we have implemented an Integrated System for Quality, Environment and Information Security based on the UNE-EN ISO 9001 , UNE-EN IS0 1400 1 and UNE-ISO / IEC 27001 standards .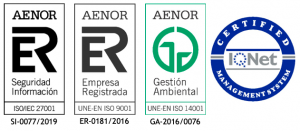 This quality, environment and information security policy is understood, implemented and kept up-to-date at all levels of the organization by the Management so that, with the effort and dedication of all staff, we can contribute to sustainable development of our society.